Bevlyn's thoughts: For The First Time
This wedding marked a couple of firsts for me. It was my first time singing in the River Room at the Asian Civilisations Museum (ACM), and I fell in love with the cosy atmosphere, warm lighting and the ornate ceiling lamps. I highly recommend this venue for couples who need fewer than 20 tables. The acoustics were excellent too.
It was also our first experience working with Anna of Spellbound. An experienced wedding planner, she worked tirelessly to make sure that everything was in order: the flowers, the food (YUM!), and the unique wedding favours. She also made sure we were thoroughly briefed on what to do at every step of the way. We certainly hope to work with her more often in the future!
Vincent and Sin Yee exchanged their vows at the River Terrace, an open space just outside the banquet hall. As the ACM did not provide a sound system at that area, we arranged for a portable one so that the couple's dream of having an outdoor solemnisation ceremony could be realised.
The wedding programme was kept simple in the sense that there weren't any 1st or 2nd march-ins, no 1st dish fanfare or yum seng like most other weddings. Instead, Vincent and Sin Yee spent more time talking to their guests! To all couples who are wondering if they must follow the conventional wedding programme, you do not have to if you don't want to. Having a good time is more important! 🙂
P.S. We took a picture of us feasting on the sumptuous buffet after our performance. We decided not to upload it because our mouths were stuffed with the delicious food. The one below looks better 🙂
Band: Bevlyn, Hsin Yeow, Eleanor, Peter and Wilson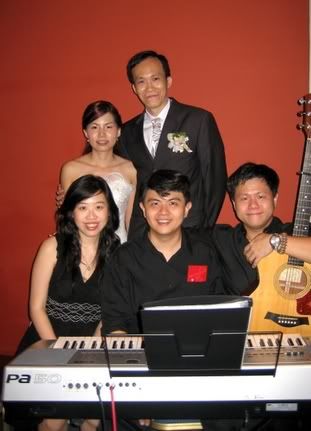 L-R: Bevlyn, Peter and Wilson
Repertoire:
My Valentine, L-O-V-E, Fly Me To The Moon, Stuck On You, Can't Take My Eyes Off You, Dream A Little Dream, Fallen, One Fine Day, I Only Want To Be You, A Love That Will Last, Have I Told You Lately?, (I Love You) For Sentimental Reasons, Someone Like You, When I Fall In Love, 我只在乎你 (I Only Care About You)
Wedding Tips:
(1) Have your solemnisation ceremony at the River Terrace of the ACM, and fulfill your dream of saying "I Do" just as the sun is about to set!
(2) If having a grand entrance is too fussy for you, feel free to do away with it. It's your wedding after all.