Hsin Yeow's thoughts: If We Hold On Together
Bill and Joanne are such a sweet couple. When asked whether they had any interesting stories to share during their courtship, Bill replied cheekily, "Joanne is now a rugby supporter and can recognise half the NZ All Black team!"
"Well, Bill, you should reciprocate and learn how to croon a Mandarin song for Joanne!", I said.
Bill retorted, "No way, everyone who's ever heard me sing tells me to shut up!"
Haha! I'll take his word for it then. Even though Bill didn't sing during the wedding, Joanne did. She picked If We Hold On Together, a beautiful song written by James Horner.
As Joanne sang, Bill gazed lovingly at her, his arms holding her close to him. His eyes seemed to say, "Now my world is complete. Thank you for being my wife."
Band: Hsin Yeow, Jonathan Ang, Wilson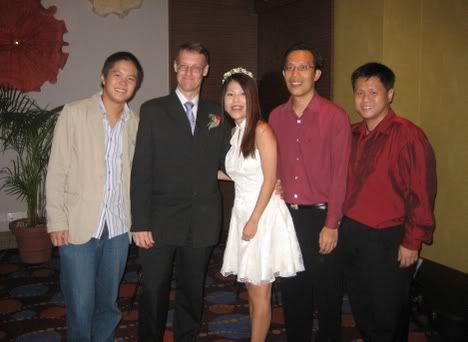 L-R: Jonathan, Bill, Joanne, Hsin Yeow and Wilson
Repertoire:
She, You Are So Beautiful, Wonderful Tonight, Everything I Do (I Do It For You), 明天我要嫁给你 (I'm Going To Marry You Tomorrow), Love Me, Have I Told You Lately, Wind Beneath My Wings, What A Wonderful World
It Had To Be You, Stuck On You, 每天爱你多一些 (Every Day I Love You More), Can You Feel The Love Tonight, Quando Quando Quando, When I Fall In Love, The Way You Look Tonight, The Gift Of Love, Something Stupid
La Vie En Rose, Hero, Unforgettable, Cheek To Cheek, 月亮代表我的心 (The Moon Represents My Heart)
Wedding Tip:
Sing a song for your spouse!
Compliments from Bill:
Hsin Yeow,
The band was a great idea; many of our guests commented that a band was better than "canned music". It was great to be able to play our own song choices, and the combination of your hosting and performing with the band worked well. You guys did a great job — good music selection and excellent performance!
Bill Jordan