Bevlyn's thoughts: I Hate Myself For Loving You
Ok, this wedding will be of few words, and photo intensive. You will understand why: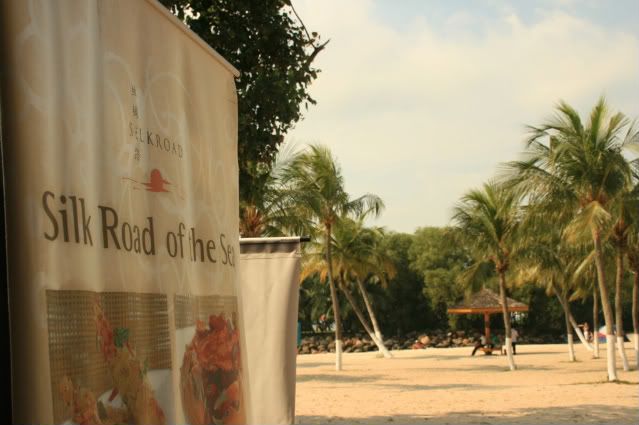 This is what you see when you look out of the restaurant, Silk Road Of The Sea, which is situated along Palawan Beach.
It was a fun wedding…because there was
balloon-sculpting
for children!
Curious to know what we usually see from where we perform? Here it is: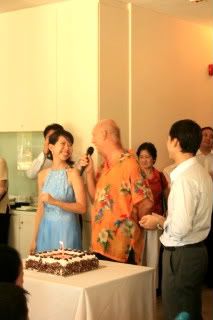 Incidentally, 2 Nov 08 is also Julia's birthday! A dear friend of Mark and Julia, Gilles Massot, led the sing-along session of the birthday song. But, but, the main emcee of the session was Julia herself! She had told me it was going to be a fun wedding party with no traditional wedding gown, flowers or romantic love songs (there were indeed none by myself, and I even sung some unsuitable songs for weddings!). Everyone, including the band (yeah!) got to eat the birthday cake as part of dessert.
Julia's precious niece,
Marcus, volunteered to spice up the event by performing Diablo for everyone
. And he was really good – I thought he had learnt for a year, but it was actually over a span of a few days!
And, one of the highlights of the wedding had got to be our dear Gilles, who decided to self-promise Julia a traditional wedding gown, flowers and romantic love songs on her wedding day.
After 'displaying' the traditional wedding gown round the restaurant…
he put it on himself
!
Gilles sang a cleverly strung medley of the Mandarin classic "月亮代表我的心" (The Moon Represents My Heart) and La Vie En Rose
– the similarities of the 2 songs never struck me until Gilles sang it and pointed them out to me. There were some parts that linked so well I thought they should stay together as a song! Gilles really made the grand efforts to pull this through because we even went to Joel's house to practise before the big day. Though I had known about his plan, the real act before my eyes was still mind-blowing.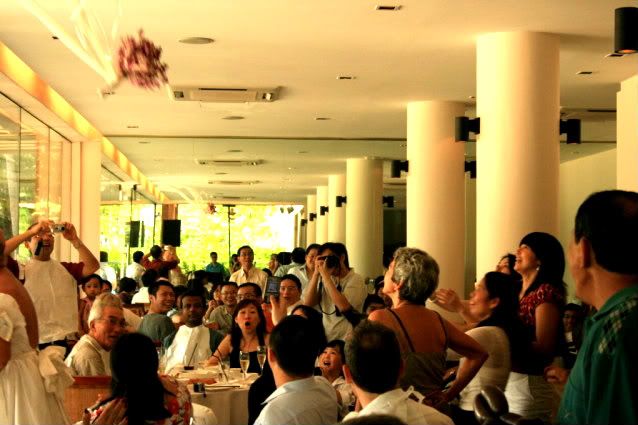 The
painful ritual for all single girls
in a wedding – being summoned to catch the flower ball (Gilles on extreme left)
Even the live band got their own copy of photo snapshot, completed with customised borders as a keepsake. How cool!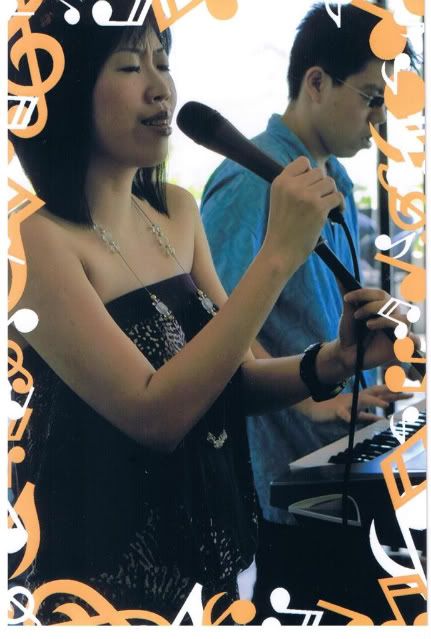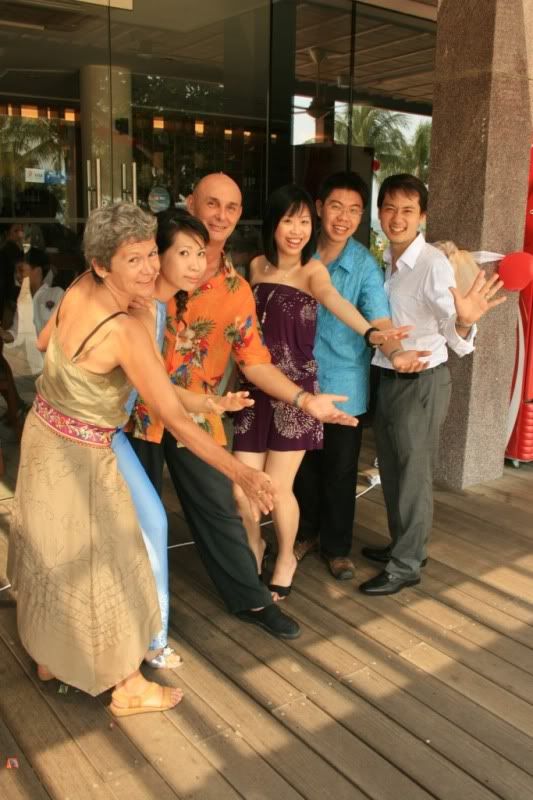 L-R: Viviene, Julia, Gilles, Bevlyn, Joel, Mark.
And don't be surprised, we ended the set with one of Julia's favourite songs (N.B., we sang I Will Survive before this song):
Band:
Bevlyn & Joel
Repertoire:
L-O-V-E, La Mer, Besame Mucho, 喜欢你 (Liking you), 星晴 (Clear Starry Sky), Come Fly With Me, Wishing and Hoping, 给我一个吻 (Give Me A Kiss), 爱很简单 (Love Is Very simple), You're Beautiful, Cheek To Cheek, C'est Si Bon, Fever, I've Got You Under My Skin, Sway, Towa Ni Tomo Ni (Together Forever), Crazy Little Thing Called Love, 我要你的爱 (I Want Your Love), 月亮代表我的心 (The Moon Represents My Heart) & La Vie En Rose medley, Can't Take My Eyes Off You, The First The Last My Everything, Dancing Queen, I Will Survive, I Hate Myself For Loving You
Song To Recommend:
Towa Ni Tomo Ni (Together Forever): Lovely Japanese song suitable for weddings. I had to sing a Japanese number because Julia had Japanese friends who flew in specially for the wedding!