Hsin Yeow's thoughts: For The First Time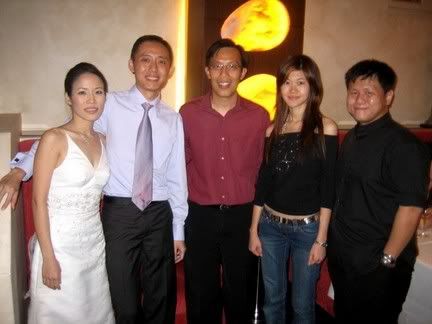 L-R: Silvia, Kelvin, Hsin Yeow, Ein Ein and Wilson
Hours after singing for Kelvin and Silvia, I'm still cruising on an adrenaline rush, like that pink bunny charged up on on a neverending supply of Duracell batteries.
Singing at weddings does that for me. Especially one like Silvia and Kelvin's.
The evening started on an excellent note when the guests applauded enthusiastically to the march-in song, For The First Time. One of my favourites, it is tailor made for weddings. Just take a look at the beautifully written lyrics:
And for the first time, I am looking in your eyes
For the first time, I'm seeing who you are
I can't believe how much I see,
when you're looking back at me.
Now I understand what love is, love is,
for the first time
Halfway through the set, the couple treated the band to a sumptuous dinner at
Senso
. The decor, food and service were all excellent, so I recommend it to couples who are looking for a classy venue for their wedding.
One of the reasons why Silvia and Kelvin chose the restaurant for their wedding was because they had a separate dinner with their family members and relatives the day before. Hence, they just needed a cosy place to celebrate their union with their closest friends and colleagues. What a splendid idea! Sabrina did it too, and I predict this trend will become more popular in the future.
Band: Hsin Yeow, Ein Ein, Wilson
Repertoire:
For The First Time (March-In), I Wanna Make It With You, She, More Than Words, Can't Take My Eyes Off You, Amazed, The Way You Look Tonight, A Love That Will Last, Angels, In This Life, Dream A Little Dream, I Only Wanna Be With You, 爱很简单 (Love Is Very Simple)
Wedding Tip:
Consider having separate celebrations for family and friends
Compliments from Silvia:
More text and pictures from Silvia's blog
A live band is a must for a western dinner. So, where where where? One fine day, I was reading stories on Singapore Brides, and saw comments on a live band. That's where I found Hsin Yeow and the band called A Little Dream
Come to think of it, I was brave enough to engage him without listening to his performance. I thought there shouldn't be a need, since almost everyone has good comments on them. True enough, they didn't disappoint me or the guests!