Hsin Yeow's thoughts: You Belong To Me, My Love Of A Lifetime
Ever since I started performing at weddings, I got in touch with people I never thought I'd meet again. Kind of like the wonders of Facebook.
Tricia contacted me almost a year ago, and after exchanging a couple of e-mails, she dropped this bomb on me: we were childhood playmates! More than twenty years ago, our families lived along the same corridor, and we'd played together after school. Gosh, talk about coincidence.
Maybe it was the fact that we'd that bit of shared history, but Tricia and I clicked right away when we met each other on her wedding night. Tricia brought me to her sisters, and pointed out the one who recognised me after viewing this blog. She must have an elephantine memory!
We had a relaxing and fun night! Bevlyn, James and I connected with the crowd easily; I even got them to sing the chorus of 爱很简单 (Love Is Very Simple) along with me. It felt like we were at a concert!
Another memorable highlight of the evening was the fact that Tricia and Alex dedicated a song to each other. I was amused to find that the two songs were diametrically different. Tricia's choice was Love Of A Lifetime, a power ballad. Alex's pick was Jason Wade's version of the classic love song, You Belong To Me. I had the privilege of singing both songs, and I really enjoyed the experience.
In one of her earlier e-mails, Tricia wrote, "I would like my dinner to be romantic and guests to leave the place feeling touched." I believe we accomplished that at Tricia and Alex's wedding. Congratulations to the both of you, and may our paths cross again!
Band: Hsin Yeow, Bevlyn, James

L-R: Hsin Yeow, Tricia, Alex, Bevlyn, James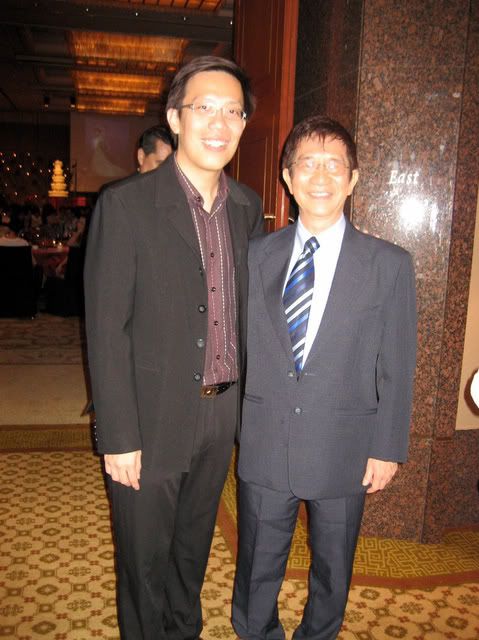 With Tricia's father
Repertoire:
Endless Love, In Love with You, When I Fall In Love, 今生注定 (My Destiny), Fallen, How Do I Live, Lost In Your Eyes, From This Moment, Valentine, Just The Way You Are, L-O-V-E, The Way You Look Tonight, I Do (Cherish You), For The First Time, Now And Forever, One Boy One Girl, Wonderful Tonight, You Belong To Me, I Swear, Love Of A Lifetime, 爱很简单 (Love Is Very Simple), Forever Love, 追 (Chase), 今天你要嫁给我 (You're Gonna Marry Me Today)