Hui Bing's thoughts: Grow Old With You
Jenny and Tianguo loved travelling and since their wedding was held at Crowne Plaza Hotel at the airport, they decided to adopt 'travel' as their wedding theme. Their creativity and ideas took flight, literally.
The wedding dinner was code-named TJ99 (their initials with '99' to represent eternity), their guests were asked to 'check in' at the registration table and their wedding invitation cards came in the form of airline boarding passes. The couple also put up pictures of their travels to Krabi, Taiwan, Australia etc since they got together in 2006.
The travel theme was consistently adopted, right down to the emcees' script, as the "cabin crew", on behalf of the "pilot and co-pilot", wished their guests a happy and smooth flight. The emcees also got the guests to fold paper aeroplanes and throw it around the ballroom when Jenny and Tianguo had their second march-in. How's that for an innovative march-in?
We were happy to provide the 'inflight entertainment' and we had a great time singing all the songs which TJ had selected, including "Do I Make You Proud" which they dedicated it to their parents and "That's What Friends Are For", for Jenny and Tianguo's close bunch of brothers and sisters, without whom the themed wedding wouldn't have been possible.
Congrats, Tianguo and Jenny!
Band: Hui Bing, Jun Xiong, Ji Xiang, Ein Ein

Taken by CF of 1950 Photography. More photos can be found here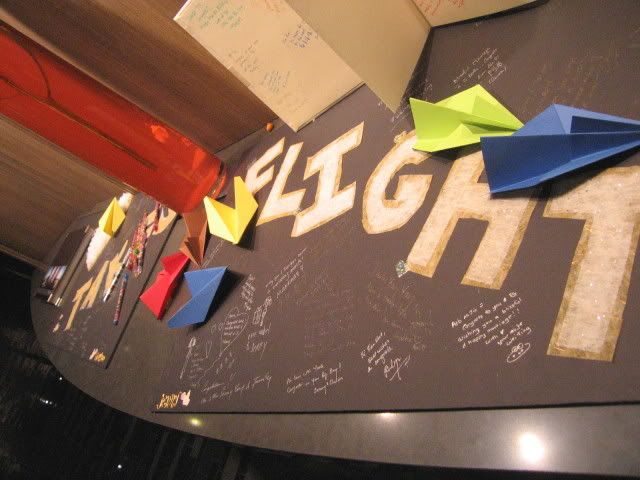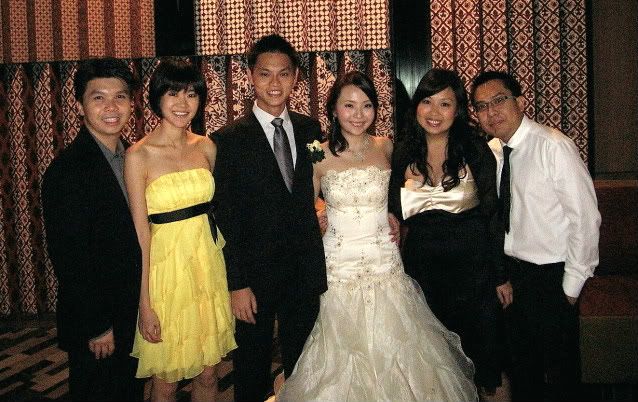 L-R: Jun Xiong, Ein Ein, Tianguo, Jenny, Hui Bing, Ji Xiang
Repertoire:
I Believe My Heart (1st march-in), I'll Be There, Quando Quando Quando, 今天你要嫁给我 (Marry Me Today), 世界唯一的你 (The Only You In The World), Grow Old With You, I'm Yours, Happy Together, Just The Way You Are
A Moment Like This (2nd march-in), You And Me, Do I Make You Proud, If I Ain't Got You, Angel Of Mine, Bubbly, C'est Si Bon, The Way You Look Tonight, Moon River, L-O-V-E, 月亮代表我的心 (The Moon Represents My Heart), That's What Friends Are For
Compliments from Jenny and Tianguo:
Hi Bevlyn,
I'm writing in to express my heartfelt thanks for Huibing, Junxiong, Ein Ein and Jixiang for their brilliant performance at our wedding!
My guests were all very impressed by the band but being a shy lot, they might not have applauded loud enough but they really appreciate and enjoyed listening to the band. I know because they kept asking me about the band after the wedding and were in awe of how amazing the band sounded.
Some of them even thought that a CD was playing when Huibing and Junxiong sang the first duet on stage! Kudos really to you guys!! Our wedding wouldn't be quite the same without you all! Definitely a charming highlight of our big night and a must-have! Engaging the band was truly one of the best decisions we made for the wedding.
My only regret is not being able to really sit down and listen to the band cos we were practically running around the whole time. But I know I will have the chance to do so at my friend's wedding cos she has asked me for the contact of you guys! I am more than glad to introduce her to your website cos I honestly cannot wait to see and hear you guys in person again!
Once again, thank you soooooo much!
PS: I've also attached a great picture of Junxiong and Huibing in action taken by my wedding photog! 🙂
Cheers,
Jenny & Tianguo
Song To Recommend:
Do I Make You Proud (lyrics) – This a great song to dedicate to your parents!