Hsin Yeow's thoughts: Better Man
Dean's gung-ho, never-say-die attitude made him an instantly likeable guy.
For example, I wish I were present at the gate-crashing just to watch the bridesmaid's faces as they see Dean and his band of brothers turn up wearing pirate outfits! I doubt anyone can keep a straight face in front of a 'pirate' who wears glasses and has a winning smile. See exhibit A below.
This 'pirate' can sing too! After some hemming and hawing, Dean decided to throw caution to the wind, and perform a song of his choice. He had no prior rehearsal, but it didn't show at all.
"Send someone to love me! I need to rest in arms,
Keep me safe from harm, in pouring rain"
That someone was the lovely Candy, who smiled serenely throughout Dean's surprise performance of Robbie William's
Better Man
. Dean later told me that it was the first song Candy had heard him sing while they were dating, and he wanted to relive that moment.
Thanks to Dean and Candy, we had a great time at the wedding, performing a set of mainly pop tunes, with a refreshing twist. In particular, I have to give it to Linus and Feri for deftly turning Top Of The World into a bossa nova tune. When Juliet heard the new arrangement, she improvised on the phrasing without batting an eyelid. Bravo!
The finale of the wedding was a performance by the groomsmen and bridesmaids. Initially, Dean told me it would sung by "a few guys". It turned out to be a massive group of about 20, singing the uplifting number about friendship, That's What Friends Are For. It was an unforgettable moment!
Congratulations, Dean and Candy! We had a marvellous time, and we hope to see you again soon!
Band: Hsin Yeow, Juliet, Linus, Feri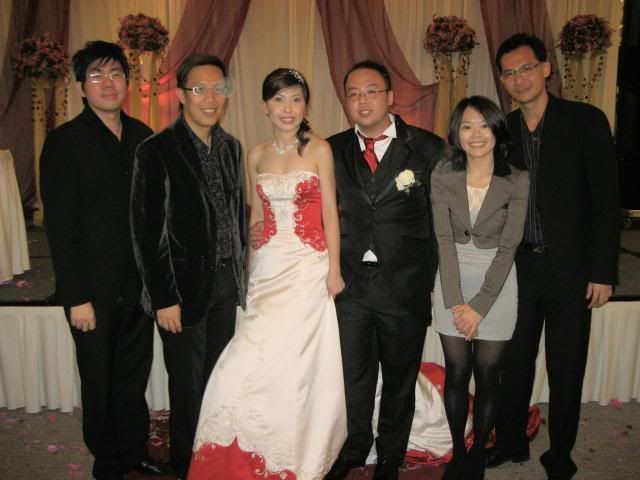 L-R: Linus, Hsin Yeow (the camera hates me!), Candy, Dean, Juliet, Feri
Repertoire:
Can You Celebrate? (1st march-in), Greatest Story Ever Told, When You Say Nothing At All, Towani Tomoni, The Wedding Song, Everything I Do (I Do It For You), Better Man, Close To You, 天使 (Angel), 你最珍贵 (You're The Most Precious), I Finally Found Someone
I Only Wanna Be With You (2nd march-in), Something Stupid, 今天你要嫁给我 (I'm Marrying You Today), Best Friend, From This Moment, You're Still The One, 有你真好 (It's So Good To Have You), Save The Best For The Last, Top Of The World, That's What Friends Are For
Songs To Recommend:
There were a number of Japanese guests in the audience, so Dean requested a few Japanese tunes. These are the two Juliet had to learn specially for the wedding:
Best Friend – A beautiful song
Can You Celebrate – Dean chose this song for their first march-in!