Windson's thoughts: Touched
Q: Describe a memorable moment in your relationship
Grace: To celebrate my birthday for the first time ever since we got together, he blew one big pack of balloons using his mouth until it got slightly swollen! The air pump was faulty lah! It was a big surprise, to enter a room filled with balloons, flowers and gifts!
Thomas and Grace wed at the Goodwood Park Hotel, Windsor Ballroom on 27th November 2008. The ballroom was jammed packed with guests. I could tell that Thomas and Grace were very well liked by their friends and families. They had two video presentations that day. The first one before the first march-in depicted Thomas' and Grace's lives growing up and getting together. The second one just before the second march-in showed the scene earlier in the day when the groom picked up the bride. It was done in such a very humorous and light hearted manner that it really tickled and charmed the way into everyone's heart.
Q: How did Thomas propose?
Grace: He proposed on new year eve, 2007. He suddenly suggested that we go watch fireworks, something which I love and he doesn't. When the fireworks started he slipped the ring onto my finger. Hee!
I was particularly touched by Thomas' sincerity and humility. He initially wanted us to perform up on stage all the time (even during the cake cutting and champagne pouring ceremony). However, we thought that since this is their big day, the night should be about them. They are the male and female leads of the night and to each other for the rest of their lives. We're happy to just support them through our songs and music from the side, helping them profess their love to each other, and relating it to their guests. He wanted to share the limelight with us, but we figured it might be nicer if they could have it all to themselves instead. After all, tonight is possibly one of their most important nights of their lives, and it would be nice if tonight is all about them. Later, to our surprise, during the couple's official speech, Thomas turned and looked us in the eye and specifically pointed out by name, Adeline, Juliet and me to thank us. It truly touches me to know that they are so appreciative of us. What a great honour!
On behalf of Juliet, Adeline and me, I sincerely wish the lovely couple a lifetime of happiness and bliss together. May their sincerity and humility pave the road towards great achievements in their lives!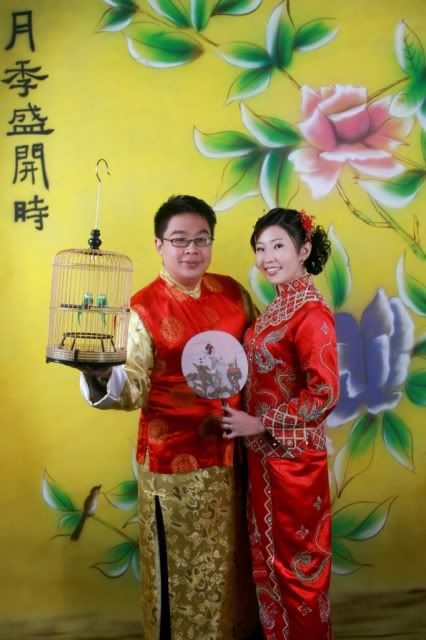 Band:
Juliet, Windson, Adeline

L-R: Adeline, Thomas, Grace, Windson, Juliet
Repertoire:
A Song For My Daughter (1st March in), L-O-V-E (1st Dish Presentation), Love Me Tender, Close To You, 今天妳要嫁給我 (Today You're Marrying Me), It Had To Be You, 多可爱的玫瑰花 (What A Lovely Rose), 爱很简单 (Love Is Very Simple), 我一見你就笑 (I Smile Whenever I See You), Everything
数到五答应我 (Count To 5 Before Saying Yes To Me) (2nd march-in / Champagne Pouring), 採紅菱 (Harvesting Red Caltrops), 朋友 (Friends), Just the Way You Are, Crazy Little Thing Called Love, Fallen, Love Is All Around, 甜蜜蜜 (Honey Sweet), 愛是永恆 (Love Is Eternal), 月亮代表我的心 (The Moon Represents My Heart), Dream A Little Dream