Hsin Yeow's thoughts: The Last Time
Kudos to Alex and Angelia for being so frank about the ups and downs in their 8-year courtship! Rather than glossing over the difficulties they faced, the couple arranged for the video presentation to show how they weathered the four major emotions in their relationship: 喜 (happiness), 怒 (anger), 哀 (sorrow), and 乐 (joy). The last emotion was depicted by a comic drawing of the couple clutching jugs of beer!
The next slide showed the couple with their backs turned while the sounds of strong winds were heard. That represented the long period of time when Alex and Angelia were deep in the throes of a cold war.
Nevertheless, they still harboured strong feelings for each other. The turning point was when Angelia fell seriously ill. Alex showed his mettle by showering Angelia with care and attention during this time.
As the saying goes, 苦尽甘来 (after the bitter comes the sweet); the relationship took off like a jet plane, and culminated in a romantic proposal in front of their closest friends (Alex didn't believe in subtlety)!
Knowing Alex and Angelia's love story made it easy for Judy, Adeline and I to inject our emotions into the songs. We had a really great time performing for the couple and their guests, who showed their appreciation by clapping enthusiastically after almost every song.
Congratulations Alex and Angelia! Thank you so much for engaging us, and may you always experience joy and happiness in marriage.
Band: Hsin Yeow, Judy, Adeline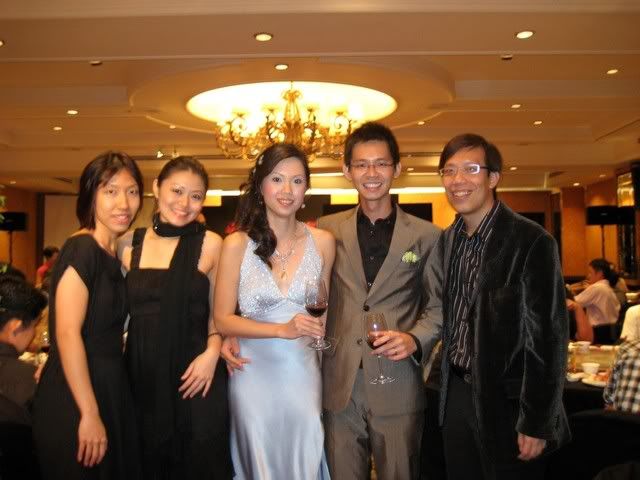 L-R: Adeline, Judy, Angelia, Alex, Hsin Yeow

Judy and Adeline hit it off instantly, even though it was their first collaboration!
Repertoire:
The Last Time (1st march in), Grow Old With You, Forever Love, Have I Told You Lately, Wonderful Tonight, The Way You Look Tonight, Put Your Head On My Shoulder, Besame Mucho, (I Love You) For Sentimental Reasons, 你是我最深爱的人 (You're The One I Love The Most), Beautiful Love, Quando Quando Quando, 你最珍贵 (You're The Most Precious One)
Inseparable (2nd march in), 月亮代表我的心 (The Moon Represents My Heart), 我愿意 (I'm Willing), 爱是你眼里的一首情歌 (Love Is A Song In Your Eyes), Kiss Me, Eternal Flame, La Vie En Rose, 我只在乎你 (I Only Care About You), If I Ain't Got You, Your Love (Is The Greatest Gift Of All), Endless Love
Compliments from the Groom:
Dear Hsin Yeow,
Thanks again for the wonderful performance during my wedding dinner!
All the guests simply loved it! You guys were great! The band really brought the ambience to the dinner which was exactly what I wanted!
Take care!
Regards,
Alex
Song To Recommend:
The Last Time – When I first heard the song, I melted into a puddle of goo. I HIGHLY recommend this beautiful song for weddings. Thank you, Alex, for introducing this song to me! I am forever grateful.