Hsin Yeow's thoughts: Umbrella
Behind Eric's quiet demeanor lies a romantic heart. He took great pains to hide the fact that he had already engaged us 6 months prior to his wedding celebrations with Francine. Despite several close shaves, he was successful!
When Francine walked into the ballroom, her mouth gaped into a small O as she saw us. If she were a comic strip character, the speech bubble above her would read, "Why are they here?"
At her blog, Francine wrote,
"When I turned the corner, I was totally stunned! Standing on the stage were Bevlyn and Hsin Yeow from A Little Dream! I heard them at some wedding shows and thought they sang very well. I wanted to engage them but little boy wouldn't let me cos he said it's too expensive. I did suspect a little when he agreed to handle the music but he covered it up so well that my suspicion wore away after awhile. I stopped in the middle of the walkway and he had to drag me to the stage..lol~ And he was very very pleased at how he managed to give me such a huge surprise :P"
Good job, Eric!
It wasn't the only surprise that night. Once again, let's hear it from Francine,
"As if that surprise wasn't enough, 1 stick collaborated with him to make a video of my friends and relatives giving us their well wishes. They even got my grandpa to say a few words!! By then I was so touched that tears just flowed from my eyes and his auntie was so nice to walk over to offer me tissue..lol, so paiseh :P"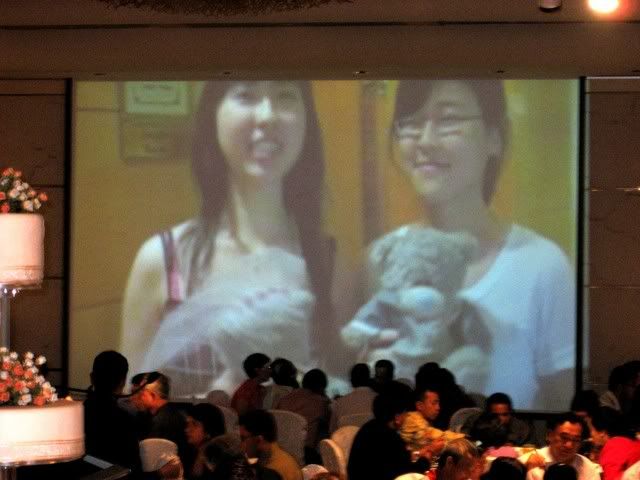 Scene from the surprise video
Congratulations Eric and Francine! May your life together be filled with more sweet surprises and beautiful memories!
P.S. It was great seeing Godfrey and Kelly again!
Band:
Hsin Yeow, Bevlyn, James, Daniel

L-R: James, Bevlyn, Francine, Eric, Hsin Yeow, Daniel
Repertoire:
Really enjoyed singing For Your Love and Me & Mrs You!
Everything (1st March-in), Close To You, On This Day, Fall In Love, Fly Me To The Moon, La Vie En Rose, When You Tell Me That You Love Me, 当我八十岁 (When I'm 80), The Way You Look Tonight, For Your Love, A Moment Like This, I Want To Spend My Lifetime Loving You
爱爱 (Love Love) (2nd March-in), Umbrella, I'm Yours, Me & Mrs You, Sway, The Way You Look At Me, When I See You Smile, 两只恋人 (Two Lovers), 世界唯一的你 (The Only You In This World), I Finally Found Someone
Compliments from Francine:
Hi Hsin Yeow and Bevlyn,
Thanks for the lovely performance at our wedding on Sunday night! It was a wonderful surprise and thanks for arranging this with Eric for me.
It was really a fool-proof surprise (cos I can usually see through his surprises..haha! :P) Even though I didn't really get to hear all the songs you guys sang, the feedback I got from our guests was great!
Keep up the good work and see you guys around! =)
Love,
Francine
Song To Recommend:
Umbrella – Rihanna's smash hit has been covered by many, and I find Natalie Gauci's version particularly memorable.