Hsin Yeow's thoughts: Have Yourself A Merry Little Christmas
In June this year, Thomas dropped me an e-mail,
"Hi! My wife and I are looking for a live band who can help us entertain our guests and make our wedding a memorable event. We visited your website and found you cool!"
Several e-mails later, I was intrigued to learn that Thomas and Joanne had chosen to hold their wedding lunch inside an underground chamber called the Bugis Vault, instead of the main ballroom of Hotel InterContinental.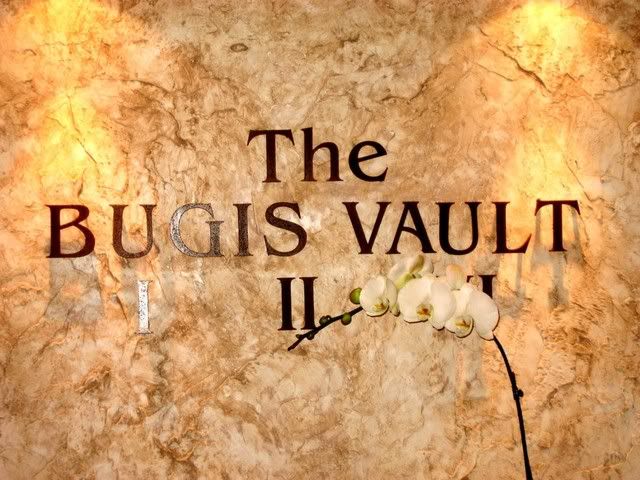 The brick walls and warm colours gave me a cosy feeling as I made my way down the flight of steps that led to the Vault. Indeed, the venue is suitable for an intimate gathering of friends and family.
To warm up the crowd, Thomas and Joanne asked Judy and Clarence to perform a few carols. Even though it was 2 days after Christmas, everyone was still feeling the spirit, and sang along with Judy.
Being adept at building rapport with the audience, Judy captured the guests' attention with her stage presence and husky vocals. Clarence's solid playing gave the songs a rhythmic, acoustic spin, and contributed to the joyous, buoyant mood. Exactly what Thomas and Joanne had in mind six months ago.
Congratulations Thomas and Joanne! Thank you so much for engaging us for our wedding!
Band: Judy, Clarence
L-R: Judy, Joanne, Thomas & Clarence
Repertoire:
Pre-lunch:
Jingle Bells, Rudolf The Red Nosed Reindeer, Have Yourself A Merry Little Christmas
Lunch:
If We Hold On Together (1st march-in), Dream A Little Dream, Can't Take My Eyes Off You, When I Fall In Love, 我愿意 (I'm Willing), 但愿人长久 (May All Live Well And Long), La Vie En Rose, My Love Will Get You Home, Moon River
Fallen (2nd march-in), My Valentine, Kiss Me, 月亮代表我的心 (The Moon Represents My Heart), Eternal Flame, 我只在乎你 (I Only Care About You), You Light Up My Life, Somewhere Over The Rainbow
Compliments from Thomas:
Hi Hsin Yeow,
Hope this email finds you well and a happy new year too. Just want to extend our warm thank you to Clarence, Judy and yourself for providing such a entertaining performance. The entire ambience was lightened up by the splendid music and our guests really enjoyed the event. Joanna and I will keep this great moments in our memory.
We wish your team a bright and successful year ahead.
Cheers,
Thomas