Hsin Yeow's thoughts: Close To You
Jianghao rushed straight to the ballroom after his tea ceremony, panting slightly.
"Sorry I was late!" He shook my hand nervously.
"You have nothing to worry about!" I assured him. "Here, Matthew will help you!"
Matthew patted him on the shoulder, and the secret rehearsal began.
Jianghao wanted to surprise Jane by singing the classic "Close To You". The moment he sang his first note, I knew the surprise would be a success. I was quite amazed actually, because Jianghao was blessed with a sonorous baritone not unlike Josh Groban's!
(It turned out that both Jianghao and Jane loved singing, and had joined their school choirs.)
Jianghao's surprise went without a hitch, and Jane sat entranced throughout the entire performance.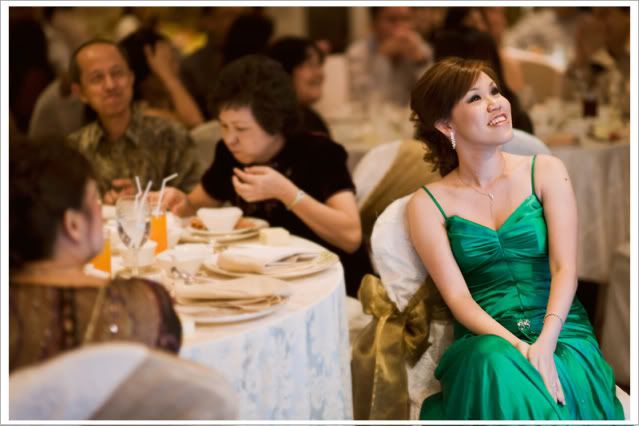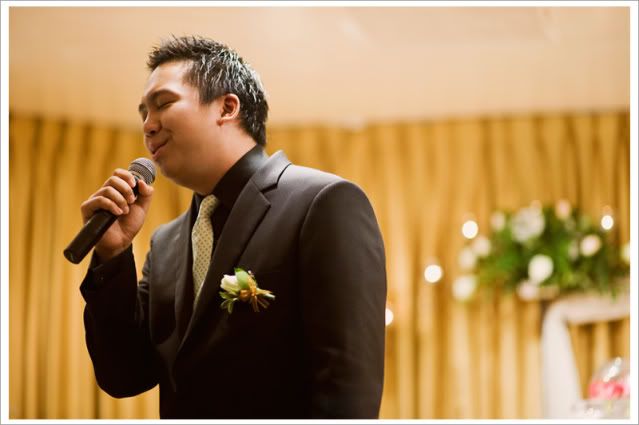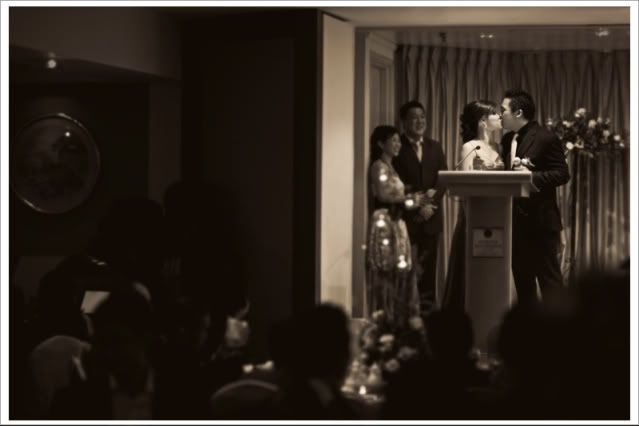 The beautiful photographs you see on this page are the work of Thomas (of The PeepingThom Photography),
who faithfully captured all the wedding highlights!
Matthew and I had a blast performing for Jianghao and Jane's guests, who were extremely encouraging. They clapped after almost every song, including those I was sure they had not heard before. I had a lot of fun performing songs like Never Saw Blue Like That and It's All About You for the first time, and throwing in wedding classics like 爱你在心口难开 (Love You More Than I Can Say) into the mix.
One of the most satisfying payoffs for me as a wedding singer is when I can get the audience to connect with my singing. This happened twice during Jianghao and Jane's wedding. The first was when Jianghao's mom starting dancing spontaneously when I sang 给我一个吻 (Give Me A Kiss); the second was when I sang 天使 (Angel), and dedicated it to a sweet baby girl who was being carried by her mom. Needless to say, her mom was beaming with happiness.
Congratulations, Jianghao and Jane! It was a pleasure singing for you!
Band: Hsin Yeow, Matthew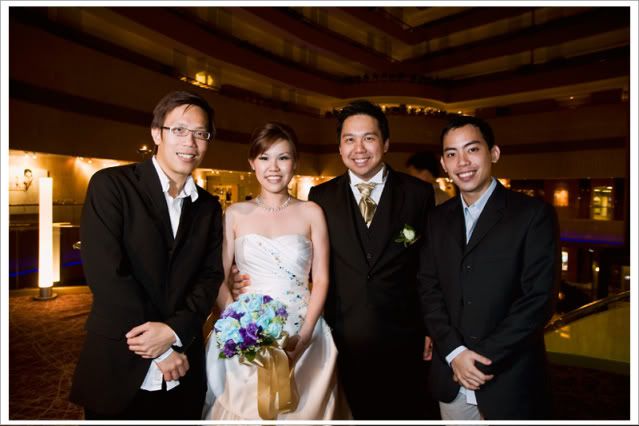 L-R: Hsin Yeow, Jane, Jianghao, Matthew
Repertoire:
给我一个吻 (Give Me A Kiss), I'm Yours, Pretty World, Somebody, Friday I'm In Love, Fly Me To The Moon, It's All About You, I Got A Crush On You, Close To You, Happy Together, 月亮代表我的心 (The Moon Represents My Heart)
Love Of A Lifetime (2nd march-in), You Are The Sunshine Of My Life, All You Need Is Love, I Wanna Hold Your Hand, 给我一个吻 (Give Me A Kiss), Never Saw Blue Like That, 天使 (Angel), How Deep Is Your Love?, 我只在乎你 (I Only Care About You), 爱你在心口难开 (Love You More Than I Can Say)
Jianghao's special song: Close To You
Compliments: Thanks for a lovely performance!
Hi Hsin Yeow and Matthew,
Jane and Jiang here!
Thanks so much for giving our guests and us a wonderful night last Saturday! Many of our guests commented on how enjoyable the music was, and we're especially glad that you took the initiative to include the chinese oldies once you saw that the crowd would take to these songs better.
Jane was really pleased to hear her favourite songs as we went around for phototaking, and they really helped keep her happy as she sang along to them. 😀 Was definitely a pity that we couldn't be around to listen to the whole performance though!
Would definitely like to thank Matthew as well for being super reassuring when we went through the quickie rehearsal – I could rest assured that I wouldn't zao xia too much!
Thanks again, and will definitely be recommending you guys to others if we get the chance.
Take care!
Jane & Jiang
Songs To Recommend:
Never Saw Blue Like That – The melody slinks into a little corner of your heart and stays there
天使 (Angel) – A song that starts off in the lower registers, but climbs the scales quickly during the chorus; like an angel in flight, I suppose?
Friday I'm In Love – A raucous song that isn't entirely suitable for a wedding, unless it happens to be on a Friday!
It's All About You – A really simple and effective song about the giddiness one feels when one is totally in love.