Hsin Yeow's thoughts: Never Say Goodbye
You know you have a bunch of wonderful friends when they spare no effort to make sure you have a great wedding. In Shaun's case, his friends decided to engage a band to provide live music. Being music lovers themselves, they realised it would be a gift Shaun would appreciate. Luckily for me, one of Shaun's closest friends was Jasmine.
I was glad when Jasmine and Keith, both long-time friends of Shaun, gave speeches. Both of them waxed lyrical about Shaun's qualities as a staunch friend who would remember to call during birthdays, anniversaries, even at the "stroke of midnight on New Year's Eve" to send his wishes. Keith also gave an entertaining account of how often Shaun's shoulder and knee caps would pop out of their sockets. Mary Lou seemed a bit worried, but Shaun gave her hand a reassuring squeeze, as if to say, "I'm all right, dear."
The highlight of the celebrations came right at the end, when a whole bunch of friends came up to sing Never Say Goodbye. This song wasn't in the list of songs Jasmine and her friends picked (which actually included Purple Rain and Livin' On A Prayer), but I suggested it because I felt the theme of friendship suited the occasion very well. I was thrilled when Shaun himself joined his friends and sang along with gusto!
You and me and my old friend.
Hoping it would never end.
Never say goodbye, never say goodbye.
Holdin' on-we got to try.
Holdin' on to never say goodbye …

Congratulations Shuan and Mary Lou! Wishing you the very best in your marriage!
P.S. I just had to take a photo with Jasmine and Yong Seng! Jasmine, who's going to be a mother soon, tried to cover her belly but I said, "Don't! You have a beautiful belly!"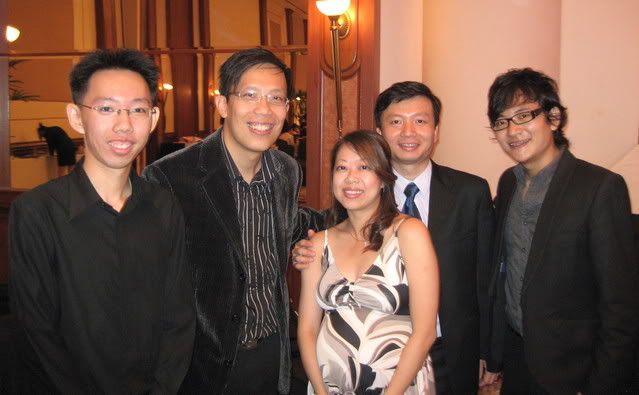 Band:
Hsin Yeow, Clarence, Ian Soh

Back: Hsin Yeow, Ian, Clarence
Front: Shaun and Mary Lou
Repertoire:
Friends, With You, I'm Yours, A Million Love Songs, Home, Everything, Never Say Goodbye, I Live My Life For You, Love Of A Lifetime, Chasing Cars, More Than Words, Now And Forever, Better Together, Wonderful Tonight, I Could Not Ask for More, Fly Me To The Moon, Fallen, Can't Take My Eyes Off You, L-O-V-E, Grow Old With You, Crazy Little Thing Called Love
Songs To Recommend:
With You by Chris Brown
– Wow, talk about stepping out of my comfort zone. Hip hop is so not my thing, but I love this song so I gave it my best shot!
A Million Love Songs by Take That
– Glad Jasmine picked this one!