Hsin Yeow's thoughts: 我要你的爱 (I Want Your Love)
The first things that caught my eye at Johnson and Queenie's wedding were the favours. There were two different kinds; depending where you sit, you either get a red photoframe or a set of wine charms that spell L-O-V-E.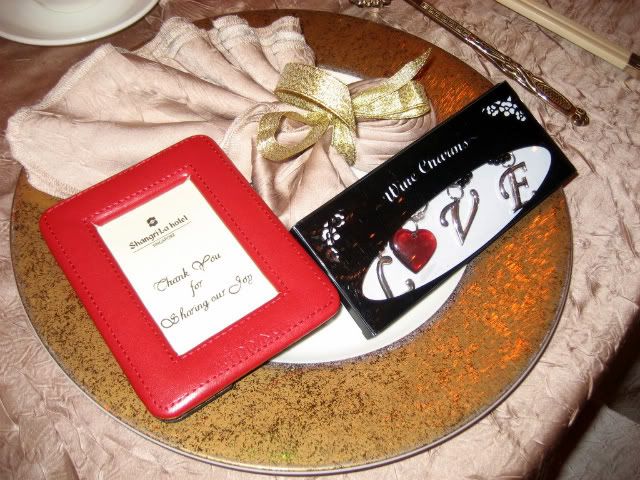 Hosted by the actor
Jason Chan
(a family friend), the wedding celebrations got off to a great start. Bevlyn sang
Fallen
, and the guests welcomed Johnson and Queenie into the grand ballroom with loud applause.
I managed to take two photos of the couple, who looked really good together!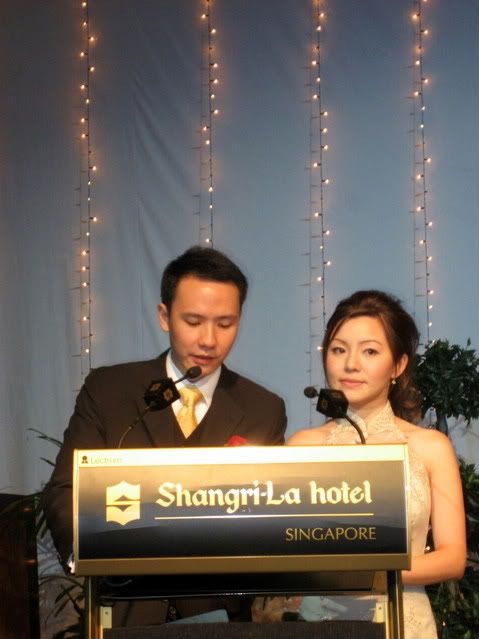 What really made the night memorable for me happened right at the end, during our final song in fact. I had asked Queenie to add in 我要你的爱 (I Want Your Love) into the song list, because it usually elicits a lot of response from the audience, especially during the chorus. The moment Bevlyn started singing it, I saw a bunch of guys sitting at a table in front of us bobbing to the music. I quickly went over with my microphone, and got a few of them to echo the words 我要! (I want!) during the chorus!
Then I heard cries of, "He's a good singer, get him to sing!" I turned around, and saw several people pointing at another guy, who tried unsuccessfully to look away. He wasn't going to get off so easily. I managed to persuade him to sing, and when he took the microphone, he suddenly morphed into Singapore Idol. It was amazing, because next thing I knew, he was dancing with Bevlyn and hitting all the high notes. It was a great end to the evening!
Band: Hsin Yeow, Bevlyn, Joel Tan, Adeline
I'm glad Queenie took my advice to engage a bassist and pianist. Joel and Adeline sounded very good together, and brought new life to familiar tunes!
Repertoire:
Fallen (1st march-in), Bubbly, So Nice, La Vie En Rose, Fly Me To The Moon, 给我一个吻 (Give Me A Kiss), I'll Make Love To You, Back At One, 月亮代表我的心 (The Moon Represents My Heart), Love Me, L-O-V-E, Wonderful Tonight
My Valentine (2nd march-in), Have I Told You Lately, The Way You Look Tonight, Everlasting Love, Forever Love, I Finally Found Someone, Something Stupid, Dream A Little Dream, Quando Quando Quando, 今生注定 (My Destiny), 我要你的爱 (I Want Your Love)
Compliments from Johnson and Queenie:
Dear Hsin Yeow
A big big thank you to you and your band for the wonderful performance throughout the dinner!
I can see that my guests have enjoyed themselves thoroughly and you guys even managed to get a few to sing! It's all good fun and we have enjoyed ourselves too!
Hope the dinner was fine for you and your band. We hope to have an opportunity to engage your band in the near future! Thanks a mill once again!
Keep in touch! =)
Love
Johnson & Queenie
16 Jan 09