Serene's thoughts: When You Tell Me That You Love Me
I always marvel at how it is so hard to describe love between two people. Yet, somehow or rather, there always comes along a song with immensely beautiful lyrics that touches the very core of you. Perhaps, words that you very much want to say to the love of your life, but never really found the right words to express yourself.
Words that mean everything about that special someone…about everything you want to do for him / her…
I wanna call the stars, down from the sky
I wanna live a day, that never dies
I wanna change the world, only for you
All the impossible
I wanna do
Tracy and Gavin chose the song "When You Tell Me That You Love Me" by Diana Ross for their 2nd march-in, a song which I felt was perfect for their evening. Theirs was an elegant and grand wedding held at the Island Ballroom, Shangri-La Hotel Singapore to celebrate a new chapter in their lives after eight years of being together. Tracy and Gavin looked splendid that evening, and although a tad reserved, I could not help but notice how blissful they both looked… it was beyond saccharin sweet 🙂 Perhaps, that is why even though I haven't met them prior to their wedding, somehow, I felt their love, and somehow, I felt their story, and I am sure all their guests did as well.
There was a special surprise that Tracy had entrusted with the band, which was to read out a dedication she had written for her husband before we performed the song "I'm Yours" by Jason Mraz.
Her dedication read like this: "To my beloved hubby, I feel so blessed that you are in my life and I am delighted to become your wife today. I love you and I look forward to the beginning of a new and wonderful life together =)". This is the first time I have seen a surprise at a wedding planned by the bride and it was truly touching to read out a simple but beautiful note as such that shared with all present at the wedding, a little glimpse of this wonderful new beginning for the both of them.
Our congratulations and best wishes to Tracy and Gavin! Thank you for engaging A Little Dream. It was our pleasure to be a part of your special day and we want to thank you specially for the lovely night, your kind hospitality, and also thank you to the extremely lovable little boy and girl who came up to us, and to all the guests who were so appreciative of our presence.
Band: Serene, Zheng Quan, James, Daniel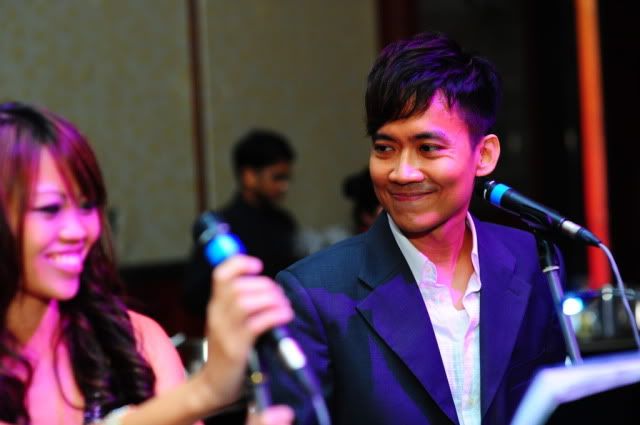 Serene and Zheng Quan
James

Daniel

The good looking couple, Gavin and Tracy
Repertoire:
Canon in D (1st march in), Fly Me To The Moon, I'm Yours, It Might Be You, L-O-V-E, Love Me, The Way You Look Tonight, Crazy Little Thing Called Love, Just The Way You Are, Everything, Love Will Keep Us Alive, 爱很简单 (Love Is Very Simple), 每天愛你多一些 (Every Day I Love You More)
When You Tell Me That You Love Me (2nd march in), A Love That Will Last, 给我一个吻 (Give Me A Kiss), Fallen, La Vie En Rose, Lovin' You, So Nice, 甜蜜蜜 (Honey Sweet), 月亮代表我的心 (The Moon Represents My Heart), From This Moment, Can't Take My Eyes Off You
Dream A Little Dream, I Finally Found Someone, Quando Quando Quando, Something Stupid, 梁山伯与茱丽叶 (Liang Shan Bo and Juliet), Tonight I Celebrate My Love
Song To Recommend:
When You Tell Me That You Love Me
Compliments from Gavin and Tracy: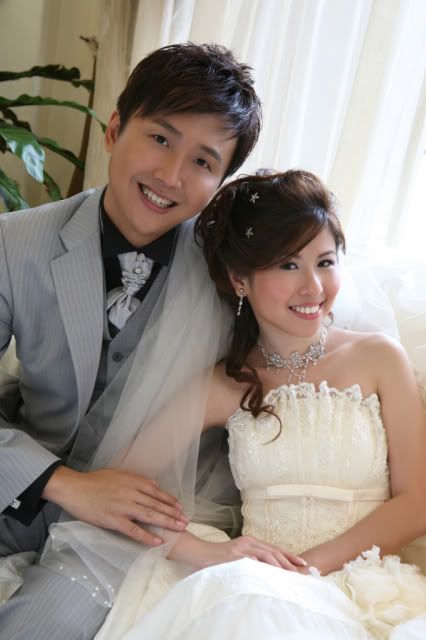 Hi Hsin Yeow,
Attached pls find pictures taken by Livestudios during the banquet. Hope your team will like it =)
We were truly impressed with the performance by Serene, Zhengquan, the pianist as well as the guitarist. It was indeed an awesome combination and they really spiced up the wedding ambience for the night. We enjoyed the songs they played during our March-in and songs that we requested to hear. We like to thank them for reading out my dedication too!
However, we kinda regretted that we were too busy entertaining the guests that we didnt have any opportunity to chat with the band and also didn't have any group photo with them.
Some of the feedback from our guests include:
– The band was so perfect that they initially didn't realise it was a live performance.
– The wedding ambience was 100%
– The performance by the band was very entertaining and the vocalists sang very well.
Hsin Yeow, thanks for your great support and coordination throughout the past few months and thanks for dropping by to say HI on the actual day.
I wish you and your team all the best & may your business prosper!
Once again, thanks for contributing to the success of our wedding!
Regards,
Gavin & Tracy