Hsin Yeow's thoughts: 小酒窩 (Small Dimple)
Gosh, there are so many things to blog about Bisheng and Ching's wedding!
Even before we entered the ballroom, I was quite impressed by this:

Matthew rushed home after Andy and Alicia's wedding and had a nap. He seems quite refreshed!
The couple decorated this white metal frame with copious photographs, polaroids, quirky doodles and other assorted knick knacks. What a great idea!
A shot of the couple cutting the wedding cake. Love the figurine on top of it!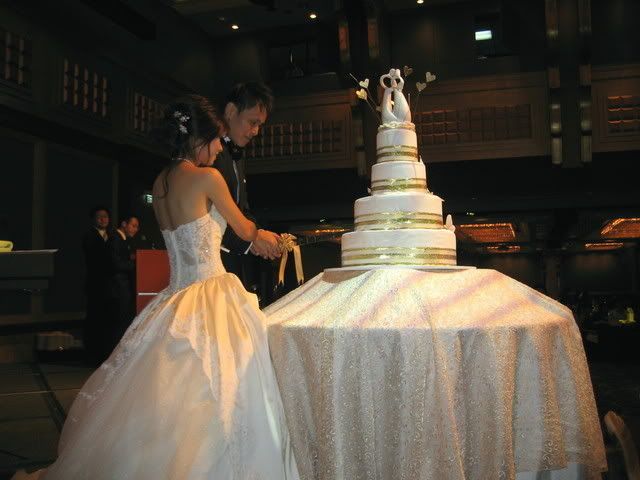 The video showing the highlights of fetching-the-bride was a scream. Don't have photos to show you, but take my word for it, we laughed out loud the moment we saw Bisheng carrying a fan bearing his name (which literally means "sure win" in Chinese) to the locked gates of Ching's home. We hooted when the camera captured close-ups of Bisheng's scrunched-up face as he downed foul drinks prepared by the bridesmaids.
This next photo shows Bisheng and Ching singing a duet — 小酒窩 (Small Dimple). They obviously put in lots of practice, because their singing was spot on. Bisheng, in particular, showed up his singing chops by scaling the high notes effortlessly!
Even though Bisheng teased the guests by saying, "No encore!", he had a grand surprise for Ching in mind. This next photo shows the lyrics of an original song Bisheng and a friend composed! After Bisheng serenaded Ching, Ching said, in mock dismay, "You made me cry! Now it's your fault my mascara's run all over my face!"
Congratulations, Bisheng and Ching! It was a privilege to be a part of your lovely wedding!
Band: Hsin Yeow, Matthew

L-R: Matthew, Bisheng, Ching, Hsin Yeow
Repertoire:
Bridal March, Let's Fall In Love (1st Dish), Can't Help Falling In Love, Can't Take My Eyes Off You, Crazy Little Thing Called Love, Have You Ever Really Loved A Woman, Heaven, I Live My Life For You, Lover's Concerto, More Than Words, Nothing Can Stop Us Now, Nothing's Gonna Change My Love, On The Wings Of Love, One Boy One Girl, Overjoyed, Pretty World, Quando Quando Quando, Sometimes When We Touch, Somewhere Over The Rainbow, PDA (We Just Don't Care), 月亮代表我的心 (The Moon Represents My Heart), 给我一个吻 (Give Me A Kiss), 爱很简单 (Love Is Very Simple), 可爱的玫瑰花 (What A Lovely Rose)
Compliments from Bisheng and Ching: A great performance!
Thanks again Hsin Yeow & Matthew for the wonderful performance!
Our guests enjoyed the music and many asked for your contact :p Thanks also, for this beautiful write-up on your blog.
We'll probably see you guys again in other weddings! *winks*
Songs To Recommend:
小酒窩 (Small Dimple) – A sweet duet
Nothing Can Stop Us Now
– a touching ballet just right for weddings!