Hsin Yeow's thoughts: New York, New York!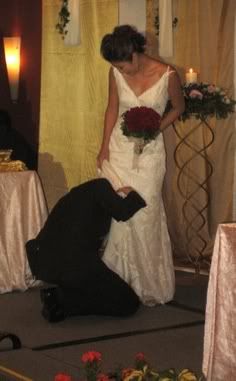 Sorry, couldn't get a picture of Jack, who was, erm, occupied.
In case you're wondering, Jack was trying to remove Elynn's garter with his teeth.
An quick Internet search reveals that the tradition of tossing the garter dates back to fourteenth-century France. Medieval French revelers considered pieces of the bride's attire lucky, and guests would literally rip off pieces of her gown. To defend herself, she began to throw them her garter! In modern times, her bashful groom does it for her and tosses it to the bachelors at the wedding. The man who catches it is thought to be the next to marry.
What wedding traditions would you follow? Tossing the bouquet and garter are Western traditions, but more and more couples are incorporating these customs into their wedding celebrations. And why not? These are fun activities that lighten up the mood and add a dash of spontaneity to the proceedings.
I was also rolling in stitches at the Best Man's speech. He claimed he was unprepared for it, and maybe he was, because he started talking about their hijinks (mostly involving drinking copious amounts of alcohol) back when he and Jack were teenagers.
I had a great time performing for Elynn and Jack. The sound system was good, and the two Jonathans provided excellent accompaniment. Best of all, we received positive response from the guests, one of whom booked us immediately for their upcoming wedding!
P.S. As Elynn and Jack were both working in the U.S. before the wedding, they had their wedding photographs taken in New York City. Stunning location + Lovely couple = Beautiful memories to last a lifetime!
Band: Hsin Yeow, Jonathan Ang, Jonathan Lim
Repertoire:
Even if you think Kenny G is over the hill, you must agree that his signature piece, The Moment, brings on the chills. Well, we have our very own Jonathan Lim who can perform that piece for you.
The Wedding Song (Sax), When I Fall In Love, Can You Feel The Love Tonight?, Dream A Little Dream, Have I Told You Lately?, Just The Way You Are, Fallen, La Vie En Rose, Quando Quando Quando, Wonderful Tonight, The Way You Look Tonight, C'est Si Bon, It Had To Be You, L-O-V-E
The Moment (Sax), Crazy Little Things Called Love, Come Fly With Me, Sway, Magic Moments, Amazed, You Are So Beautiful (1st Dance), In This Life, Save the Last Dance For Me
Wedding Tip:
Check out wedding traditions from other cultures. If you find them meaningful, consider including them in your wedding too!
Compliments from Elynn:
(This was first posted in an internet forum)
Hi everyone who is looking for a live band,
I recently engaged A Little Dream for my wedding, and I must really say that they did such a phenomenal job! I love it especially the part where they played our march-in song, I myself just felt so touched coz it was so warm and romantic. I also love it when they played during my solemnization..I feel they know when to create that atmosphere..
As a whole, their presence simply made the whole event so so so romantic! I definitely recommend to everyone who wishes to make their evening a more lively yet romantic one! The money is definitely well spent, as there is no way background music can make the atmosphere so romantic.
In fact, one couple friend who attended my wedding that night engaged A Little Dream immediately for their upcoming wedding after seeing their performance…=)
Keep up the great job, A Little Dream!
(Hsin Yeow: Thank you Elynn, we will!)